Leaders believe that the Christian Bible University is designed to provide students with a comprehensive and in-depth study of the Bible.
The lessons are pure non-denominational teaching based on an accurate "extraction" of what the Bible teaches, without reading into the text what someone might think it teaches. Courses cover all the books of the Bible, plus four additional topics that help you understand Scripture (Christian Evidences, Hermeneutics, Greek, and How We Got the Bible). The university is designed for anyone who wants a focused, organized, and comprehensive study of the Bible.
The Accredited Bible College will hold its annual graduation and Presidential Lifetime Achievement Award in Texas on December 4, 2022. This annual event will be held each year during the first week of December. The first event will be the prestigious All White Affair, with celebrity guests including Marshall Thompson of the legendary group The Chi Lites, Paul Anthony of Full Force's Legendary, Garfield of the group Shai, Farrah Franklin, formerly of Destiny's Child. December 4, 2022 is the big day of the graduation ceremony.
Many prospective students strive to continue their higher education within a faith-based community that can provide them with the spiritual support they desire. Choosing which college to attend is much easier when you have a comprehensive way to compare the best Christian college. Many of these top Christian universities boast affordable tuition rates and reputable academic programs, with traditional and online degrees available for those who prefer distance learning.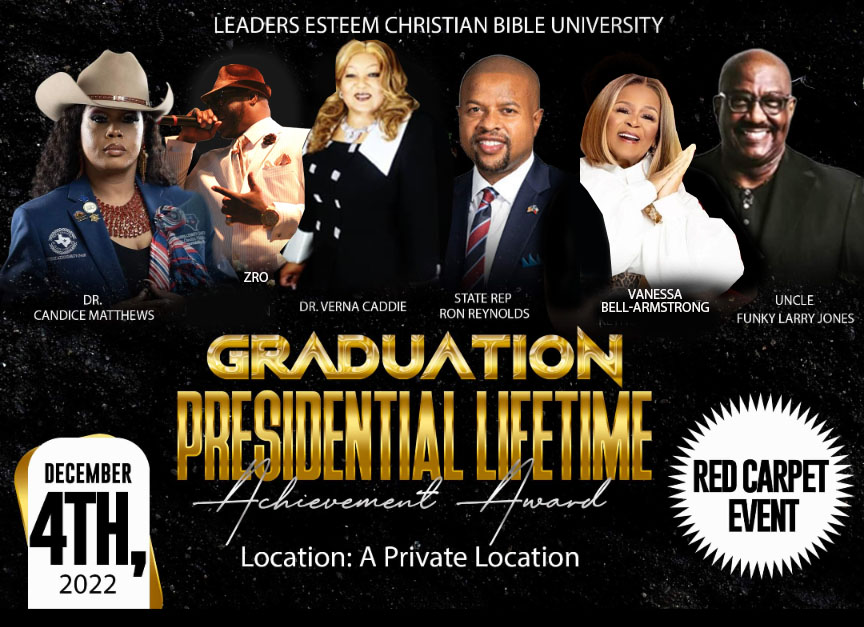 We have ranked these best Christian colleges based on several factors including but not limited to return on investment in tuition, academic quality, affordability, and editorial review to help students determine which of these best online Christian Bible colleges is the best choice for your academic level. In the words of the Founder Dr. Caddie, "I am so happy to honor everyone who are so deserving and who works for hard to help our communities".
Contact information:
Leaders Esteem Christian Bible University
139 Cypresswood Drive #149
Spring, Tx 77388
(832) 617-6441