Things can happen in life that can change the path that we take. That happened to Blue Mason during the housing crisis around 2007. He was planted in the middle of it all as he himself was a loan officer for around five years as this crisis took hold.
As that no longer became an option, he was able to find himself in a shop that was for sale, where the owner needed to get out of the lease, and it came at a steal of a deal. It was a tattoo shop itself, but currently, Blue didn't have the professional know-how to produce tattoos.
Still, he did have the business savvy combined with his sales and marketing experience to run the business profitably. He hired a professional tattoo artist to handle the tattoo portion, while Blue set up shop right at the front of the parlor and made sure to interact positively with every client who walked in the door.
As if it wasn't enough to make such a huge pivot early on in his life, Blue had the luck to meet with one of the best tattoo artists out there, who was Angel Collins. This man became Blue's mentor and showed him how a tattoo parlor could be an inspiring work of art set on a moving canvas and not just a place to put random tattoos on people based on trends.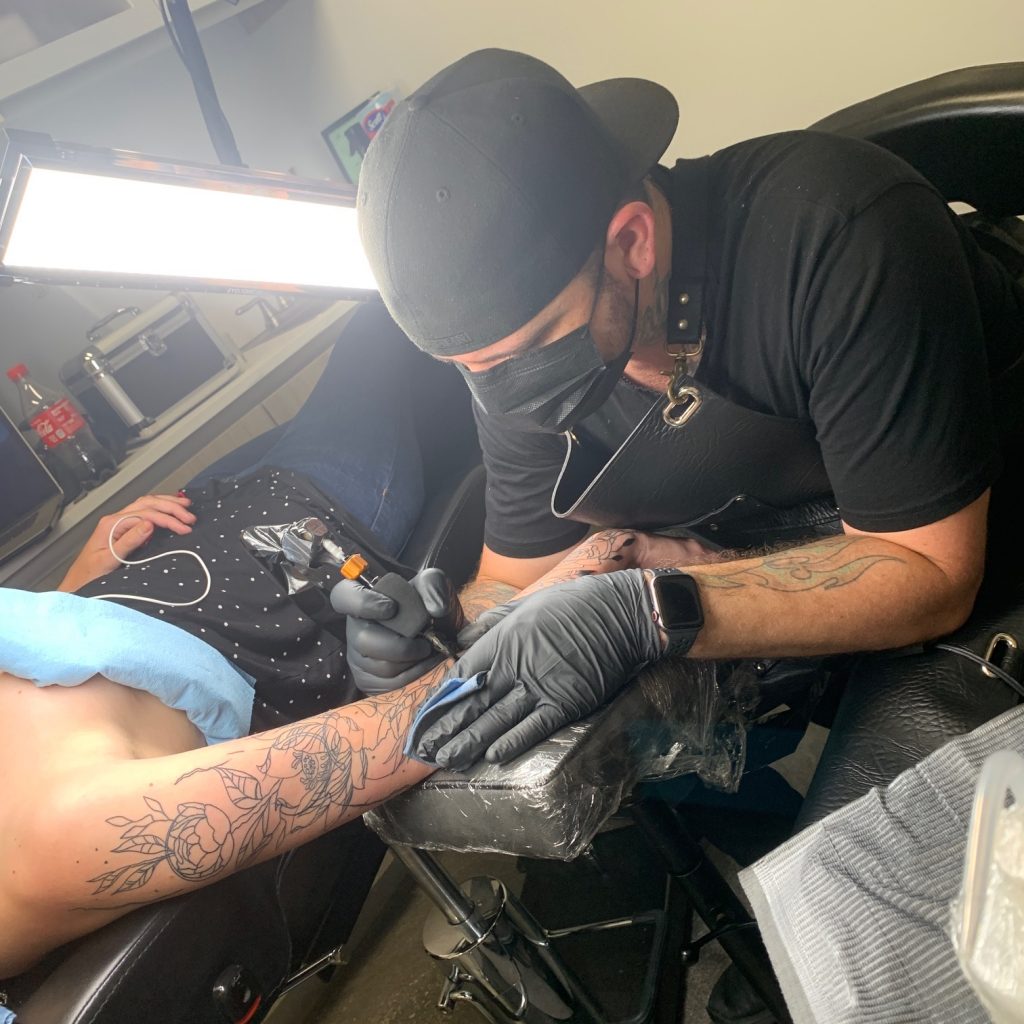 Then, Blue decided to elevate his skill set and take full ownership of his business by becoming his own tattoo artist. He sought after the best in artists out there and took extensive amounts of courses and seminars to make sure that he was ready to be the artist himself. Then he reopened the shop in this new and more mature vision that was the true start of his journey as an artist.
A new vision in the industry
What really helps the success behind Blue Mason is how he envisioned everything from the start. Rather than simply seeing himself as just opening a tattoo parlor and a business, he describes what he does to improve the way people see themselves.
It's a bond that's formed between the artist and the client, where that artist is giving a permanent mark on the body. It has a certain responsibility, and you shouldn't approach it lightly. It can be described as an intimate moment, and you should understand the gravity of the situation.
This leads to what Blue's top goals are as an artist. Blue doesn't just want to draw ink on clients, but he also wants to promote dialogue and education between artists. This mentality of sharing best practices helps to elevate the entire environment and industry, which will lead it to be more lucrative for all involved. Furthermore, that education extends out to the clients themselves so that they understand more of what it means to get a tattoo and the art and style that is behind it.
Blue also works to challenge the misconceptions that are common among those that have tattoos and the tattoo studios themselves. That's why part of the education for the clients is always to ask any questions. He believes it's important to eliminate the fear of asking stupid questions and wants to have his clients as informed as possible. Only then will they fully understand what art is all about.
How to get into the business
Blue always appreciates the community growing and believes that for anyone who wants to be a tattoo artist, there are a few things to work on beforehand. If you have the ability to draw and create, then you're already ahead of the game, but in the end, you need to have the desire and passion for making, no matter how talented you are.
You're essentially an artist, and your work of art will proudly be displayed on someone's body. That means you need to work on having the right balance of patience and focus. It's also not a matter to be rushed and should have a design process before simply starting to create that tattoo. The skills behind it? Blue believes that anything can be a learned skill eventually with enough practice. What cannot be taught again is the patience to learn and the desire to create.
Speaking of patience, that is the most important skill to have when starting out. This is true for any artist but especially a tattoo artist. Whether it's the patience to draw or the patience to practice and learn, it's all the same. When you're doing a tattoo on someone, you need to take it slowly and carefully, which reverts to patience.
What's next for Blue Mason?
That's always an interesting question and can vary from time to time. Currently, he's expanded from drawing and tattooing to also documenting the pictures and the process behind it. He's using this as a method to market his skills and his business as an artist. Then it's all about creating content from the drawing process and pushing it into social media as often as possible. He believes that many tattoo artists fail in not just being well qualified to handle a tattoo but to sell and promote their skillset to the outside world.
He likens this to being a performer, as any artist eventually must become a promoter of the work. With a wide range of selection out there, it's always important to offer the right type of unique selling point and to find clients that are aligned with his vision and art style. He builds this with the mindset that he wants to have the most influential tattoo website and application for the tattoo industry to connect potential clients with tattoo artists all over the world.
This connectivity in the tattoo world will always be one of the more critical missions for Blue, as he understands the value of being able to have access to some of those superb tattoo artists that are out there but may not always be so well known.
On top of that, in the next few years, he wants to open the world's largest tattoo studio, which will not only be a place to get some of the best available tattoos worldwide but also be a place where this artform can continue to maintain its creativity, connect with others and grow the overall industry.
In the end
Blue is one of those visionaries that knows just how important a tattoo can be in someone's life. When asked what type of tattoo he wants to have next or what kind of tattoo he wants to see be created, it can easily vary. Also, who he wants to tattoo are always people he wants to show his gratitude for or those that simply could use a boost of happiness in their day.
When not tattooing, you can find Blue Mason simply destressing like the rest of us, whether it's traveling with friends, going snowboarding, or picking up a few rounds of paintball. These rare moments of respite are there to take his mind off work and give himself a break before he pours himself completely back into his passion.