Everyone wants their holiday gift to be remembered every time their recipient uses it.
From clear handbags, commemorative certificates, and CBD cookies, this gift guide has you covered to get something exceptional for that special someone that they will truly remember.
Margo Paige's stadium-approved bag is stylish in design and made with high quality, durable eco-friendly materials. It's a fan favorite with the versatility to wear as a crossbody or a shoulder bag. This bag can be paired with multiple looks and is a must have staple in any closet. Not to mention is clear handbag compliant by most events and venues across the country-making the perfect multi-functional handbag.
Every Oliver Charles sweater is made in Brooklyn, NY, on advanced 3D-knitting machines that seamlessly "print" each sweater in a single piece, making them lighter and stronger while reducing waste. Made from world-renowned materials, khullu ("coo-loo"), a super fiber from high elevation Tibetan Yak, and merino wool.
Give the delicious gift of sweet relaxation this holiday with Black Sheep CBD meringue cookies! These tasty traditional treats but with a healthy twist! Made from premium, all-natural ingredients, these deliciously light cookies are made with CBD (THC Free) that taste as good as they'll make you feel– with none of the high! Crafted from chef-inspired recipes, Black Sheep CBD Meringue Cookies have only natural ingredients like Cane Sugar and Natural flavors. They are Gluten-Free, Dairy-Free, Soy Free, Cholesterol Free, Non-GMO, and THC-Free and contain zero total fat, saturated fats, or trans fats. Every bag contains 100 MG or 200MG of 100% hemp-derived CBD and is made from full-spectrum CBD. Available in 9 irresistible flavors. Made in the USA. Available at https://blacksheep-cbd.com/
Get connected with nature and put your mind at ease with Pura D'or organic aromatherapy oils. As natural extracts, specific essential oils help in relieving tensions, circulation, and improve retention and focus. With 16 different essential oils like organic Lavender, Peppermint, Eucalyptus, and more, you can put a few drops in a relaxing hot bath (or use with a diffuser) for an aromatherapy experience that calms the mind and soothes the body.
Heels for the holiday season, Luna Selene brought a little vintage glam back to the runways this season at New York Fashion Week. When Elvis hit the big screens, we knew 1960's fashion was making a huge comeback. Luxury shoe label Luna Selene , was ahead of the game with their collection of booties, pumps, and strappy sandals that bring back the classic staples of 1950s-60s glamour. Luna Selene, atelier of high-elegance shoes, was inspired by a woman's daily life – from the boardroom to the red carpet – and the many places she will travel. With the belief women are unstoppable, founder Shannon Slack handcrafted the perfect shoe that urges women and all fashionista's to dream big and never slow down – your shoes should keep up with your drive and determination.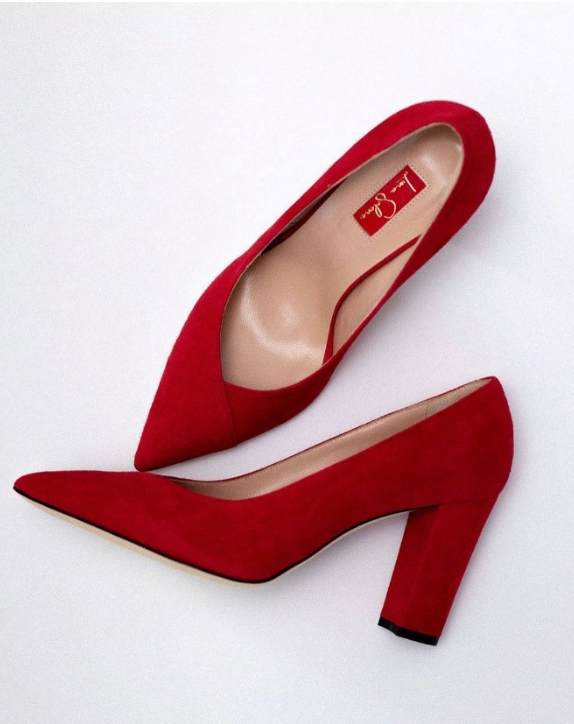 MyTVLife is a nostalgia gift company that provides custom, frame-worthy certificates with a snapshot of television history on the day you were born, married, etc. Each certificate includes your name and the date, what was on TV that evening (and even the precise time of day if you know it), top shows and noteworthy new premieres that season, and a large image of that week's TV Guide cover, along with other goodies from that week's issue. MyTVLife was founded by Gary Frisch as a way to share his life-long collection of TV Guides with everybody! Certificates are printed on thick paper stock and mailed flat.
Classic Ukrainian Borscht. The OG. Savory, bright red borscht with a delicious tangy taste with a hint of sweetness. Full of potatoes, cabbage and beets, it's thick, chunky and delicious. Your grandma won't be disappointed.The kit is packaged into a beautiful collectible tin with traditional Ukrainian floral design on the lid. The package is magnetic on the back so it works as a fridge magnet!
What happens when you combine two of the top skateboard and scooter brands in the US? You get the world's most fun, most maneuverable scooter that guarantees a mind-blowing riding experience. Here at Bustin Boards, we have teamed up with our friends at LaScoota (who has over 40,000 5-star reviews on their push scooters) to create the Skate-X, the world's first skateboard inspired electric scooter that offers the most fun you can find with handlebars! This bad boy will redefine your scooter experience by giving you the thrill of a top-of-the-line electric skateboard by combining the power of an e-scooter with the maneuverability of an e-board.
You do so much for your dog the entire year that it's time for you to treat yourself! Kono's Kitchen Holiday TreatBox includes one bag of Kono's Kitchen single-ingredient freeze-dried raw treats, one minimalist design squeaky dog toy, one bamboo lyocell eye pillow, and one eucalyptus lavender soy candle with a wooden wick that crackles like a mini fireplace when you light it.
Only half of the box is for you, but let's be honest….50% of the treats is probably more than we're used to getting. It's the perfect gift for yourself or another dog parent that deserves to treat themselves this holiday season!
Begin Within is a daily healing and self-care journal. This journal allows you to document everything from your vitals to your nutrition, mood, medications, symptoms, challenges, and accomplishments (big and small), with a focus on gratitude. Documenting such information is helpful for healthcare appointments and makes a great reference for recalling specific information written down, as well as noting any progress and connecting dots. Journaling daily is wonderful for one's own mental health and can provide valuable insight and support on your path to wellness. Each journal includes 90 days or one season of daily prompts. Each month, we donate a portion of journal sales to an organization that promotes advocacy, research, and resources for the chronic illness community.
Olababy's Silicone Suction plate and training spoon + fork set are both ergonomically designed to encourage baby-led weaning and self-feeding and are perfect self-feeding utensils for learning and developing fine motor skills and dexterity. Silicone Divided Suction Plate has a Suction base that sticks to smooth surfaces such as highchair trays and tables to prevent messy spills. It has an Easy release tab for adult and hard for child. Its Curved divider walls designed for easy and safe cleaning. It is 100% non-toxic, durable, food grade silicone; BPA free, PVC free, Lead free and Phthalate free, as well as being Microwave safe, dishwasher safe, freezer safe and heat-safe up to 428°F/ 220°C.
Revive Jewelry honors loved ones and survivors by celebrating the positives. Inspired by my loved ones who were taken too soon, my jewelry incorporates cellular imagery in every design. Each sale donates 10% of proceeds to an associated charity. These are perfect gifts for the holidays because it connects us to our lost loved ones and gives back.
Happy Holidays from Eyes on Hollywood!