Snatched Beverly Hills was founded by Sadiyah Karimi and Ani Malkhasyan, two best friends turned business partners. Though they started out as ICU nurses, today, they are the proud owners of a thriving medical spa that specializes in empowering their clientele.
Karimi and Malkhasyan had been working as ICU nurses for two years when they decided to switch focuses and venture into the field of cosmetic procedures. Although they enjoyed their previous positions, they wanted to combine their passions of medicine and beauty and entered the field of cosmetic procedures.
Both educated with a Masters of Science in Nursing, they began to work to learn how to perform non-surgical medical procedures in the field of aesthetic nursing. After doing multitudes of research, they decided to start Snatched Beverly Hills together, a luxury med-spa that offers non-surgical facelifts, anti-aging treatments to empower their customers and inspire confidence in anyone who seeks out their treatments.
Both Karimi and Malkhasyan value getting thoroughly educated on their procedures before they offer them, attending training sessions, webinars, and seminars until they feel the utmost confidence in any service they are about to offer. Stemming from both of their backgrounds as ICU nurses, they value reliability and precision in all aspects of their practice.
Snatched Beverly Hills offers countless innovative advanced skin procedures. These medical skin treatments include skin tightening, resurfacing, and non-surgical face lifts. Snatched was named the #1 consumable Morpheus8 providers in California, hence the pair are redefining what it means to take care of your skin with their innovative treatments.
Morpheus8 is a popular radio frequency micro needling treatment that was first popularized by the Kardashians. The procedure builds new collagen in your face and body, providing an effective and minimally invasive approach to subdermal remodeling.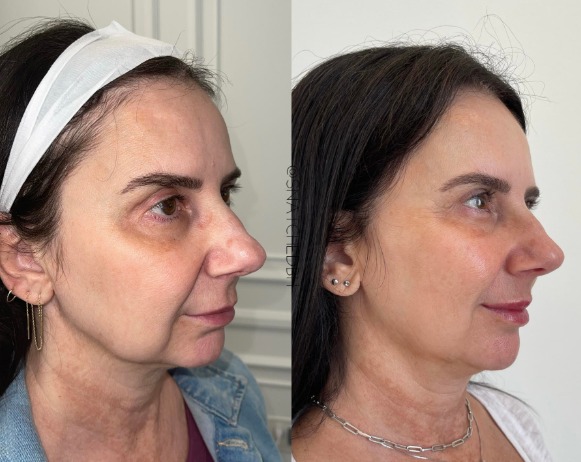 For traditional Morpheus8 treatments, they rely on injections of PRP into the skin. PRP, or platelet rich plasma, is a natural way to improve the appearance of your skin from the inside out. PRP is full of proteins and growth factors found in your own blood, which is separated from red blood cells by being spun in a centrifuge.
In addition to the traditional Morpheus8 procedures, they also offer Forma, a skin and tissue remodeling technology that stimulates the formation of new collagen and improves the skin's elasticity on the face and neck. They also offer acne scar removal and laser hair removal treatments.
Both Karimi and Malkhasyan prioritize the empowerment of women and strive to make every woman feel truly beautiful and confident. They centralize on the concept of real beauty or relying on subtle enhancements that improve and complement the unique features of every client that they treat.
On social media platforms, Snatched Beverly Hills serves as an insightful tool into the world of aesthetic nursing. With each post of work that they have done on a client, they are sure to explain the procedure and what it consists of, as well as sharing unfiltered before and after photos.
They also use their platform to stand up for what they believe in. In an Instagram post released on July 2nd of this year, they shared "There is nothing wrong with proactive & innovative approaches to aging just as there's nothing wrong with all the beautiful women who choose to go without it."
Additionally, they candidly shared that for any client who is seeking work, they always make sure that they are doing so for the right reasons and are in the right mental space to be making decisions to slightly alter their appearance. At the end of the day, they want to make sure that any work they do is strictly helping the clients they serve.
Snatched Beverly Hills continues to grow, building a solid clientele and a strong reputation for being a women-led business dedicated to snatching looks and helping women feel beautiful in their own skin.
For more information or to book a consultation visit their website.