Non-Fungible-Tokens (NFTs) have completely revolutionized the assets and collection space. Now with the NFT Generator Machine, you can easily create your own NFT or even better… your own Collection.
NFT Generator Machine is the #1 software that allows you to create 100% unique NFT's using the power of AI.
In this article, we will go over everything  NFT Generator Machine has to offer, as well as how you can use the software to create your NFT Collection.
Why create an NFT?
NFT's are a great way to share your creativity with the world, it is also a great way to make money. Digital art has revolutionized the way that people are collecting. More people than ever are focusing their collecting in the digital art space, and this has opened up a wormhole of opportunities.
Also, creating NFT's has never been easier—thanks to NFT Generator Machine. You can now create your art and upload it online to sell. The best part of NFT's is that you can set up Royalties.
This way, the more your art trades hands the more money you will make.
How to use the NFT Generator Machine
Many people get intimated by creating NFTs because it just seems too difficult…
NFT Generator Machine has changed the experience of making NFT Collections for everyone. Whether you are a complete beginner or an expert, this amazing software is made for everyone!
We will go over 4 easy steps on how you can use this software to easily create your NFT
1. Setting up the Software
Setting up is simple. All you must do is stall the software with one click. Once the software is installed you can click the "New Generation" button to get started.
2. Organizing made easy
Once you have pressed the "New Generation" button you can start creating folders. Each folder can be used to organize a specific "Layer" of the process, such as elements like:
Body
Background
Head
And others
3. Creating the Metadata, and specifying Rarity
After going through step #2 you can then proceed to apply specific Metadata (Collection Name, Collection URL, Collection Description). You can also turn on the Rarity setting to decide how unique you want your traits to be
The process is very straightforward and will guide you on what you have to do next. Unlike, other software and websites that have too much information that can easily overwhelm anyone…
4. The rendering process
Once all the correct settings are entered all that is left to do is click on the "Start" button. Once you do this, the generation process will start, and all that will be left to do is wait. You will have a progress bar that indicates the progress of the NFT generation.
The great part about using this software is that it is constantly being updated every 25 days to add more value!
NFT Generator Machine it is not a simple software, but a real digital asset that gives you all the tools you need to create your NFT's and collections, in the easiest and safest way possible.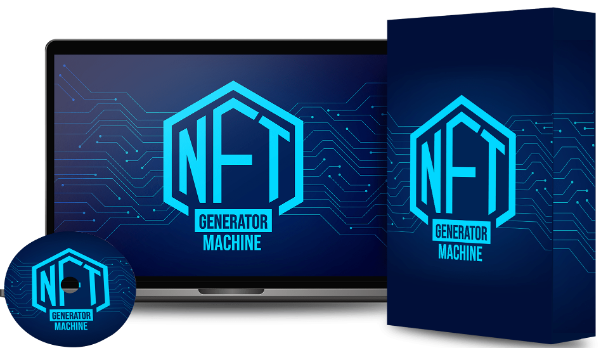 Here all its Features:
NFT Collection Builder – Generate yours without a single line of code!
This is the most used tool by users, it allows you to upload your own files to the machine (all the elements for example eyes, mouth, body etc…) to overlay the layers and then create your own NFT Collection. Generation is quick and easy and includes metadata settings for the blockchain you have chosen, so that it is 100% unique and you are the only owner.
Rarity Tool
If you are new to the world of NFTs, you should know that the "rarity" factor is one of the most important factors in determining the value of your digital artwork. The rarer an NFT is, the more it will be sought after, and consequently it will be sold at a higher price. Thanks to this valuable tool you can make certain attributes of your NFT rarer than others. All with a simple click.
I Art Generator
With this valuable feature you will be able to create any NFT Artwork (mostly abstract art) by simply entering a text with words related to the design you have in mind.
You can literally create endless nfts and let your imagination run wild.
There is no limit to the themes you can create and that's what makes this feature amazing. You have a real asset that can generate spectacular designs with just one click.
Turn your photo into a masterpiece, even animated
Upload your image and turn it into a masterpiece with dozens of different artistic styles to choose from.
You will also be able to make your photos into detailed animations!
Multiple blockchain integrated, compatible with all marketplaces
NFT Generator Machine is the only software integrated with the most relevant blockchains so you can sell your NFTs on all marketplaces worldwide.
This means that you get 100% rights to the designs and you will be the sole owner of your collection.
You will have complete autonomy on how to use your assets, no constraints and no hidden costs…
Create NFT Trading Cards
The most expensive NFT of its kind has been sold for over 1.2 million.
Thanks to this special tool you can create your own NFT trading cards and give your digital assets a unique and recognizable style
This kind of NFT has become so relevant that it is listed on Opensea as a real category!
NFHouse is paving the way for your NFT success
Most NFT software and generators are hard to use and don't come with any support. NFHouse created software that is backed by support, a knowledge bank, and value.
To get started in creating your NFT, Visit the NFT Generator page to sign up.
Let the generation begin!