Jada Pinkett Smith is speaking out two days after husband Will Smith struck Chris Rock publicly at the 94th annual Academy Awards on Sunday night.
Her words were minimal. She posted a message on her Instagram that read, "This is a season for healing and I'm here for it."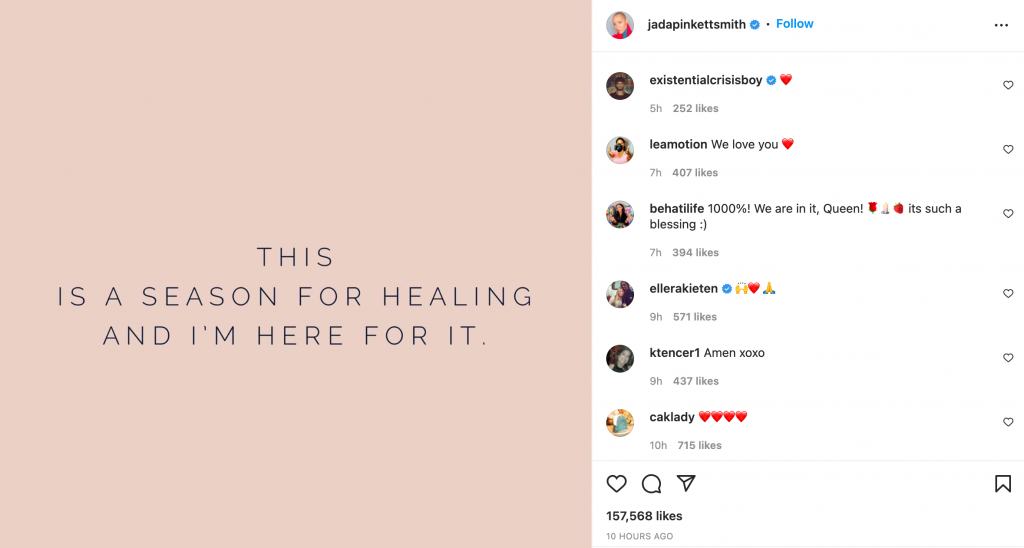 Jada's post came after Will, apologized to everyone on Monday saying…
"Violence in all of its forms is poisonous and destructive. My behavior at last night's Academy Awards was unacceptable and inexcusable. Jokes at my expense are a part of the job, but a joke about Jada's medical condition was too much for me to bear and I reacted emotionally."

By WILL SMITH Courtesy of Instagram
The remark references Demi Moore's shaved head in the movie G.I. Jane. Jada has talked about her bald head and how it was a result of  alopecia. It is something she has been dealing with for years. However, it doesn't mean that Chris Rock knew that. The two have started in 3 movies together and are long time friends.
We will have to wait and see how it goes between the two. As for Will and Chris Rock only time can tell.