Walking a red carpet is a dream for many little kids growing up, but is achieved by a very small group of people. For John Kaler, writer and actor of the new short film The Wrong Guy, his dream is becoming a reality at this year's Dances With Films Festival.
Dances With Films, a Los Angeles-based film festival, is celebrating its 25th anniversary at the TCL Chinese Theater in Hollywood. The festival highlights indie films and the wonderful, stressful, and creative processes of creating movies. The festival has over 20,000 attendees each year and gets to spotlight independent filmmakers, including Kaler. Showing a film at the Dances With Films festival alone is an honor, but premiering a movie at such an iconic theater is even more of a dream for filmmakers.
"I dreamed and hoped that one day I would be able to attend a premiere there. Now it's really happening".

"It's one of my most proud moments, which took some time to achieve. It also inspires me to keep going on".

Kaler exclaimed
"The Wrong Guy" is a short film starring Kaler and his co-star Kirk Fox, directed and co-written by Alejandro Montoya-Marin. The Wrong Guy is a dark-comedy that emphasizes being cautious with your daily interactions with people, because you never know when you're dealing with "the wrong guy". While highlighting mental health through examples of road rage, the movie exaggerates everyday interactions to allow audiences to relate and ultimately laugh at the ridiculous nature of life.
The film will make its world premiere at the Dances With Films Festival, a testament to the challenges and struggles of Kaler and his team during production. The Wrong Guy was written at the height of Covid-19 and filmed a few months later. The virus found its way to the set and left director Alejandro Montoya-Marin exposed. The team quickly adapted to the struggles of the pandemic, leaving Marin to direct the film through Zoom and other streaming platforms. Additionally, the team was filming in Texas when the infamous snowstorm of 2021 hit, leaving many without power or heat. Regardless, the producers finished the movie, and ended up with a film they are very proud of.
Premiering at Dances With Films is a goal of many filmmakers, and one that Kaler can happily check off his bucket list. Proudly, Kahler explained "our #1 festival goal before shooting The Wrong Guy, is and was Dances With Films. We feel we are exactly where we need and want to be". Screening at a festival is a critical step for indie filmmakers, and also incredibly rewarding. Dances With Films is ultimately a place where filmmakers can reach new fans, collaborators, investors, and connect with likeminded people. It is essential for networking, and also to show the world what indie filmmakers are capable of.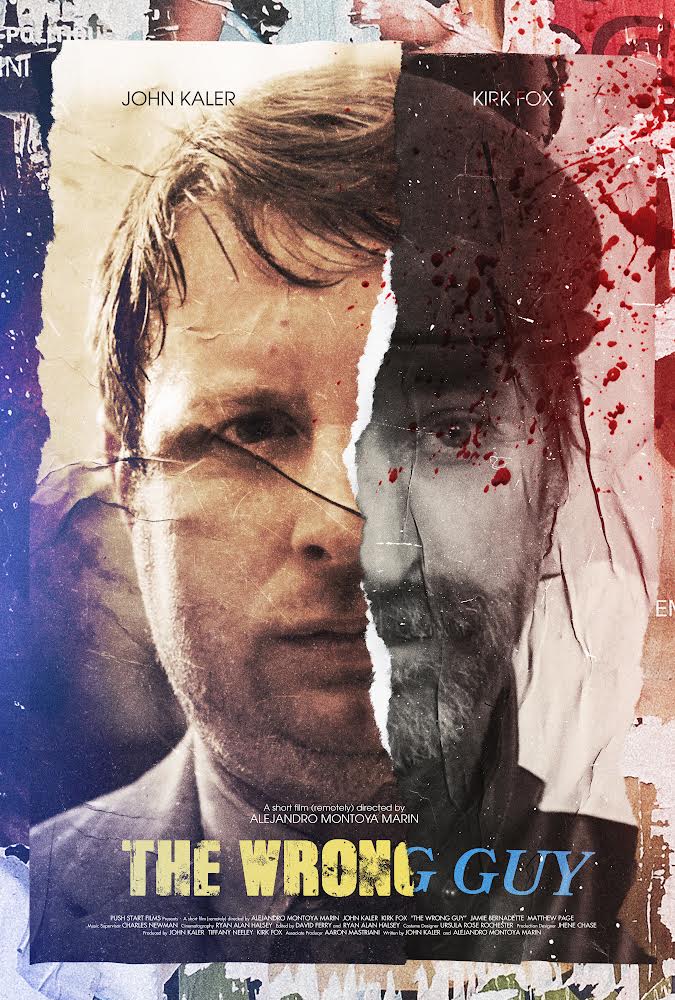 The Wrong Guy has achieved some of its professional goals, but still has aspirations as to what audiences will take away from the short film. "I made it to bring joy and laughter to the world", Kaler expressed. "Right now, I think it's an important time to make comedies and present the harsh truth and dramatic situations to the world in the form of comedy". Inspired by Rough House Pictures films and comedies that feature comedians like Adam Sandler, Jim Carrey, and Danny McBride, Kaler hopes his film will inspire young filmmakers to make more quality comedies. Kaler is looking forward to the premiere of the film ultimately to catch all the laughter and excitement of the audience members seeing the film for the first time. "People's reactions make all the hard work worth it".
Watch the trailer HERE