Director Brandon Eric Kamin's new film Rittenhouse Square is slated to premiere at this month's Philadelphia Film Festival. The film tells a story of hope and friendship in the midst of struggles that viewers can relate to.
Rittenhouse Square tells the story of KJ, a young street singer. Facing mounting pressures from attempting to live up to the legacy of his late father, KJ reaches a point of depression that causes him to consider taking his life. It is at this pivotal point that he meets Barry, an older homeless veteran. Their unconventional friendship gives both men hope and inspires them to look at the world in a new way.
Rittenhouse Square is personal for Kamin. Although the film is fictional, it draws heavily on his childhood, during which he faced many challenges of his own that can be seen in the film. Kamin grew up in a working-class Jewish family and faced his fair share of bullying. He has lived in Philadelphia for over a decade, where the actual Rittenhouse Square landmark is located. Kamin describes the area as a "continuous melting pot of personalities and memories that unfold before your eyes." After being exposed to the culture there, including the street music, for years, Kamin felt it was right to pay homage to that in his film.
Any director wants their film to succeed commercially, but Rittenhouse Square is about more than that to Kamin. "Should the film encourage even one person to lend or seek a helping hand, then I'd say that's a bigger achievement than any box office performance," he states. With the variety of hot topics, the film addresses, "including divinity, LGBTQ+, single parenting, homelessness, mental health, and more," it is easy to believe it could lead to the kind of positive change Kamin is hoping for.
KJ is played by Dharon Jones. This is Jones's first time working on a feature film. Despite his status as a newcomer, he delivers an impressive performance. Barry is played by industry mainstay Nick Nolte, who has won a Golden Globe award and been nominated for an Academy Award. Kamin was thrilled to work with Nolte, saying that, "I wrote this movie for him and couldn't believe upon receiving word that he was interested." Nolte showed strong dedication to his role, meeting with Kamin frequently via Zoom before production began to run lines. Working with Nolte has become a treasured experience for Kamin.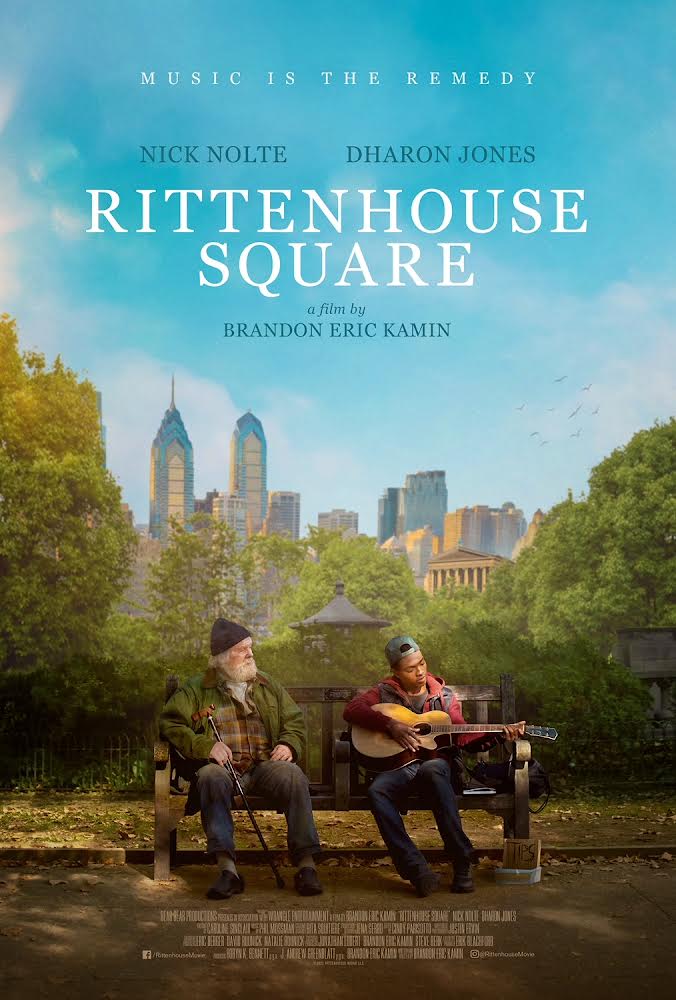 Just as KJ and Barry find new hope for the future in Rittenhouse Square, the film has similarly changed Kamin's life. "10 years ago, I was scrubbing toilets on my hands and knees in East Falls while making mom/pop commercials to get by," he shares. "Now I'm answering PR questions about what it's like to direct Nick Nolte in a movie."
Kamin hopes Rittenhouse Square is able to match with a streaming platform and that Jones and Nolte are recognized for their incredible performances. Beyond that, Kamin wants Rittenhouse Square to impact audiences personally. "We got one shot at this life thing, so take a swing. Every character in the movie is overcoming personalized battles, similarly to real life. They're all individually going against the status quo, yet each character finds a way to prevail and persevere with humility, friendship, and belief in something greater than themselves," he says. "While life can be a challenging course, it is imperative to remain strong, kind and hopeful for the endless possibilities in the future."