With a heart on her sleeve, singer, song writer, Jae' Morrissa has gone from singing to patients and residents in hospitals and nursing facilities to becoming a fast-rising singing sensation in the music industry.
With her newest release, "Love Me Like You Used To" Jae is opening up like never before. Dealing with all her emotions… the good, the bad and the hard side of them all. Like in most intimate relationships there are ups and down. You want to hold on the the ups as long as you can but at some point…as Jae Morrissa points out, it is not always the case.
"Lovely, is what we were/ Then ugly, somehow we turned/ Now Maybelline, can't cover these tears/ I miss the way you touch me/ The roses and the bubbly/ Before we fell to nothing/ No, it aint just me,"

Jae Morrissa song
As American singer Jae Morrissa released her highly anticipated single Love Me Like You Used To , women all over are calling it one of the most relatable song they've heard. Being true to herself, it was time to get back to the studio for her fans. This new release is following the success of international hit's like "Nobody Like Me," "AWOL (Alone Without Love)," and "Butterfly," Jae Morrissa proves she can deliver hit after hit. 
In a recent social media post, Jae Morrissa took to social media to announce the single's April 7th release date.
"HEYYY!!! STAY TUNED FOR MY UPCOMING SINGLE "LOVE ME LIKE YOU USED TO" DROPPING April 7th, 2023!!!," she shared with fans around the globe. Fans from all over poured in with love and support as they have been requesting for new music for sometime.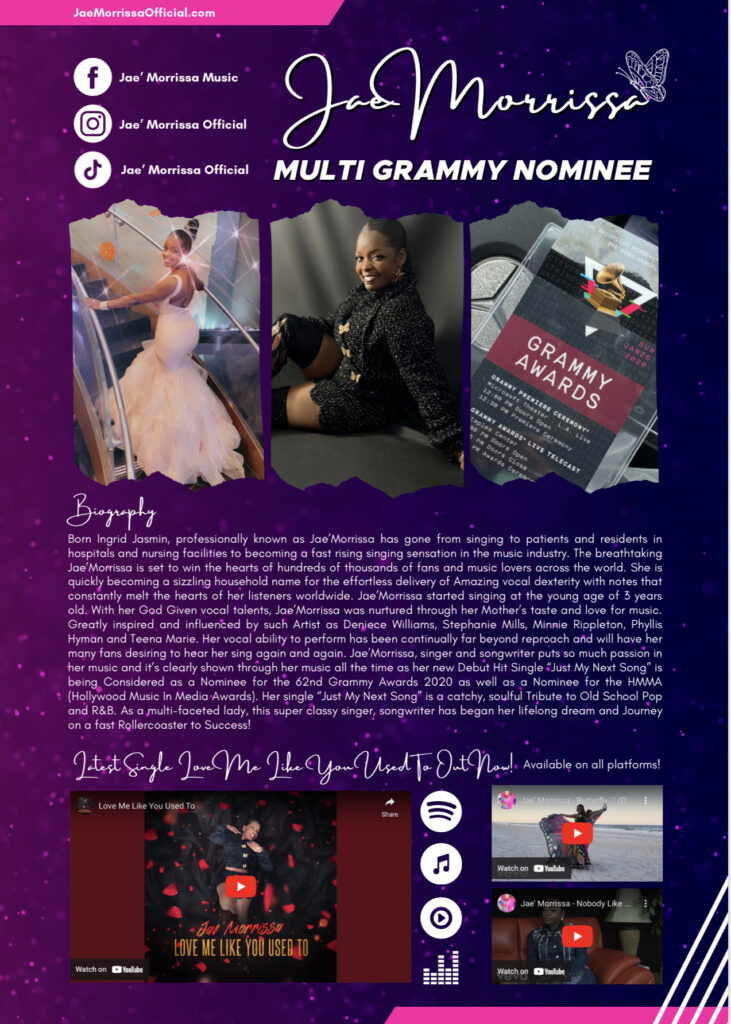 Jae has been thru the relationships and has asked the questions that are in her song…she knows she is not the only one. This is what makes her a great artist. Her fans relating to her music is why they continue to follow her career.
Lyrics like this is pain that you know was real without a doubt.
"Why do men stop loving women who are solid? After the honeymoon phase of a relationship is over, I saw that passion sometimes fades away and I asked myself … Why don't you love me like you used to? Truth is, replacing me ain't gonna be easy, I ain't no walk in the park and you're not gonna find nobody like me,"

Jae's Lyrics from her new release
Eyes On Hollywood can't wait to have our readers download the new song and play it in the car while thinking of their old flame and connecting with the music.
For more information, Follow the songstress on IG