Jennifer Lawrence, Hollywood's favorite relatable queen, made a jaw-dropping entrance-in more ways than one-at the Cannes Film Festival. Dressed in a mesmerizing red Dior Haute Couture gown, Jennifer commanded attention and left onlookers in awe.
The gown, crafted from sumptuous satin fabric, draped flawlessly over Jennifer's figure, creating an enchanting silhouette. The simplicity of the design accentuated her natural beauty and radiated an air of timeless elegance.
Jennifer opted for sleek, straight hair that cascaded down her back with a lustrous shine. This hairstyle added a touch of sophistication to her overall look, perfectly complementing the sleek lines of the dress and allowing the attention to be focused on the captivating ensemble.
To complete her red carpet look, Jennifer Lawrence adorned herself with a stunning diamond necklace that elegantly graced her neckline. The exquisite piece of jewelry added a touch of opulence and served as a dazzling focal point, catching the light and accentuating her every move.
The choice of minimal accessories was a testament to Jennifer's innate understanding of fashion and her ability to let the dress speak for itself. By keeping the focus on the dress and the striking necklace, she showcased her confidence and allowed her impeccable style to shine through.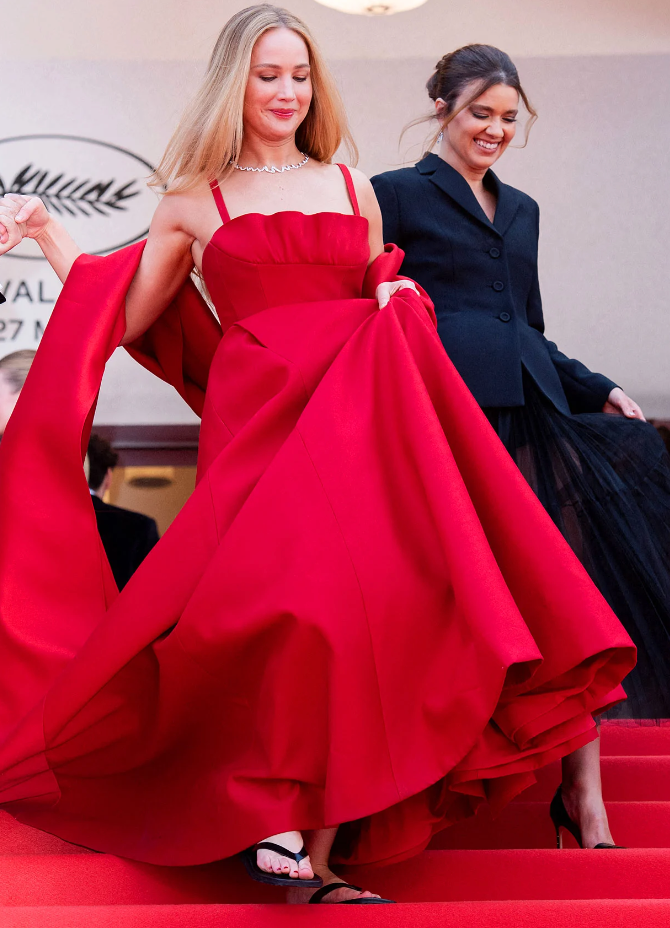 Jennifer, staying true to herself, opted for a pair of black flip-flops as her shoe choice for the festival. Completely violating every dress code under the sun, the bold fashion choice made a statement and speaks to her individuality and preference for comfort over style- though wearing a red Dior Haute Couture dress certainly exuded glamor.