A Movement With The Motivation to Raise Awareness for "Unity" All Around The Globe.
The World is going through a crisis and bringing positive changes along with it. We are all facing the same problems of being isolated or separated from those we care for. We are suffering from Wildfires, Pandemics, Racial injustices, Wars, and Economic and Health Threats that are affecting our Nations Globally.
On the other side, it gives us the chance to "Unite", Stand Together, Work Together, and look past the Borders of Religion, Politics, Race, Sexuality.
Geo Slam Specializes in Exponential Spiritual Life Coaching for Celebrities, Business Executives and High Achievers.
He has been seen and featured in Fortune Magazine, Business Insider, Yahoo Finance, FOX, NBC, CBS, USA Today, Disrupt Magazine etc. and holds "Master Coach Certifications" in both "Spiritual" and "Mindset" Coaching.
Geo Slam holds a passion for Entrepreneurship and views "entrepreneurship" in combination with "Spirituality" as the future for Thought Leaders who want to make a Change in the World.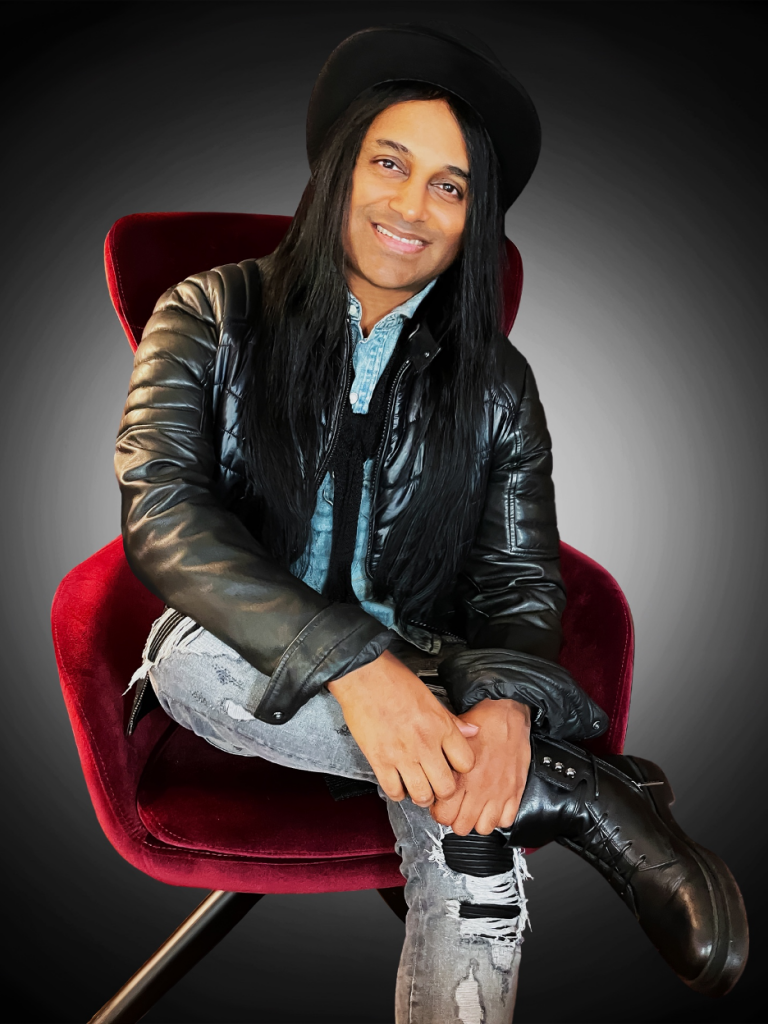 Besides Coaching Elite Level Clients, Geo Slam is also a highly respected Internationally Multi-Platinum Certified Producer/Songwriter.
He has contributed on an array of recognizable Songs to Popular Culture and worked with many of the World's Best-Selling Recording Artists such as One Direction, Enrique Iglesias, Jason Derulo, Backstreet Boys, Blue, LP, Dimitri Vegas & Like Mike, Kelis, Taio Cruz, Deadmau5, Priyanka Chopra, Europe, etc. and has been involved in the Productions of various popular Albums & Singles that cumulatively have sold over 50 million Copies World-Wide
I lived in Hollywood for ten years and saw the Entertainment Industry constantly emerging into a more" Spiritual Direction".
High-Achievers and Purpose-Driven Leaders became more and more interested in using and sharing their gifts and talents to make positive changes to the world based on" Spiritual Principles" as well as in their lives and careers, says Geo Slam.


Music Artists also became more and more motivated, honest, and confident to share their messages in a way that positively uplifted their audience when communicating their Creativity and Artistry.
Experiencing and seeing all that was a true Game-Changer for me, which got me into Exponential Spiritual Coaching on the side of my career in Music, but now it's my full-time occupation.
Geo Slam has designed "Awakened Awareness", a Unique Customized 4-Dimensional Comprehensive Exponential Spiritual Coaching Program for Elite Peak Performers, Celebrities, Business Executives, and High-End Achievers.
One World – Catching Fire
The "One World – Movement" is a World-Wide, Non-Profit Project with the Motivation to raise Awareness for "Unity" all around the Globe.
Ordinary volunteering people, Adults and Children from so far over 45 Countries and 6 Continents across the Globe (North America, South America, Europe, Africa, Asia, Australia) and from all Ethnical Cultures have recorded Video Shoutouts over Zoom or Smartphones. Praising and taking their stand for "Unity" and sent them to the "One World – Community." The videos are now being posted on One World's Social Media Channels.
These people are showing themselves taking action, getting together in spreading the message that it's time for "Unity" now more than ever. Making their Voices Heard, Contributing to Making a Global Change. The number of participants in the" One World – Movement" is constantly increasing.
The Theme-Song "One World – Catching Fire," Exclusively written By Geo Slam for the "One World – Movement" is released Worldwide.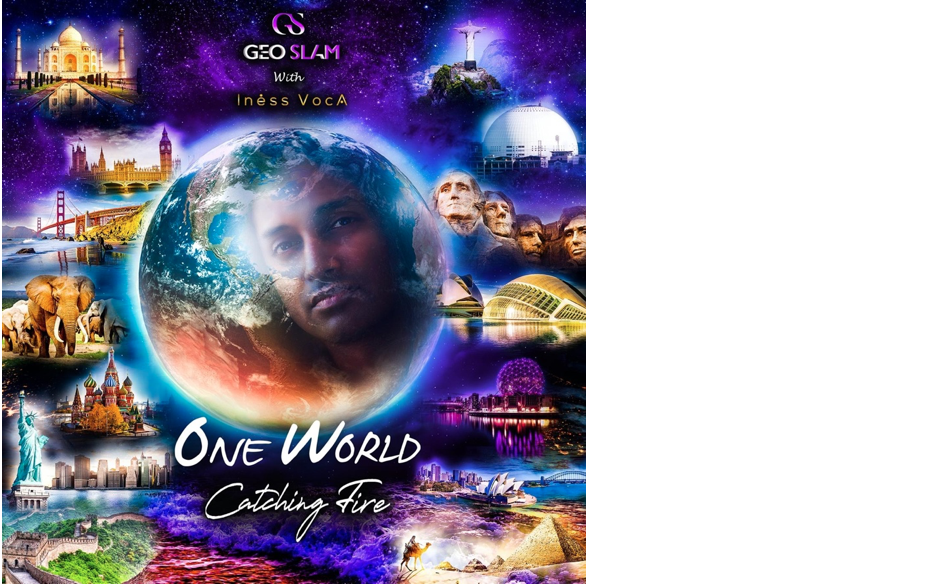 It serves the Purpose of Raising Awareness for all groups of people and has one Strong Message: "Unity".
The Song is in the majority recorded remotely over the Internet with Zoom or Facetime.
The Choir used as backup singers are made up of children and ordinary people from all over the world show their support for the "Cause" and contribute to Making A Change!
Live Recordings from Wild Animals in Tanzania were used to create a more World-Music-Atmosphere, AND Geo Slam himself sampled his own Heartbeats to be used in the Breakdown Section of the Song as a Rhythm-Beat.
As Lead Vocalist for the Song, the German Singer Iness Voca was chosen.
She is now one of the main ambassadors for the One World Movement.
(You can listen to the Song HERE.)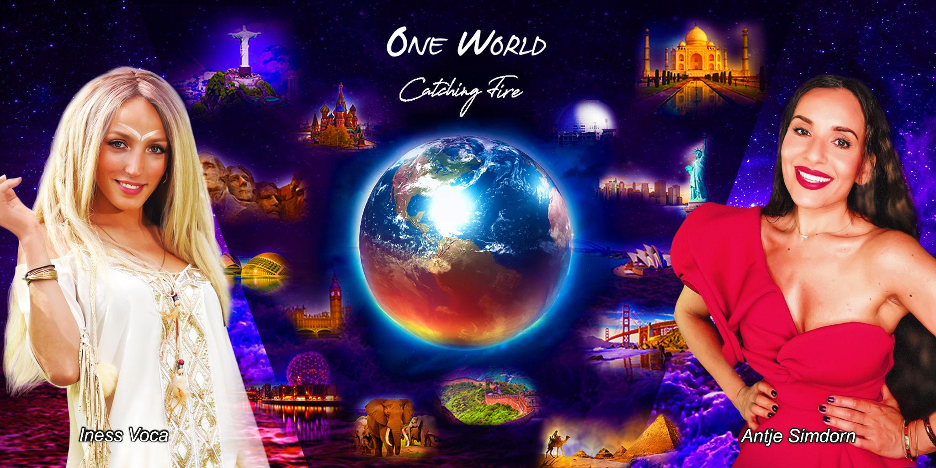 Iness Voca is one of the fastest uprising Organic Artists in Germany. With her Heart and Soul committed to making the World a better place and being personally involved in numerous Charity Projects made her the first and only choice for the well renowned Internationally Multi-Platinum Certified Producer to handle the vocals for the Theme-Song of his Global Charity Movement.
Iness Voca stands for "Global Unity" and is a living example of what this project is all about, says Geo Slam.
If we are willing to support each other, we will all grow – and grow together. Together we can do it, says Iness Voca.
Life gives your perspective, and we all have so much to give and so much to share with each other. I think it's time to do that, especially during this Pandemic and these times of Uncertainty with Wars fought around us.
When people get together for a greater cause, they can make a Big Impact. Charities are dependent on volunteering individuals who commit to giving their time, efforts and, in some cases, donate money.
"Make Charity a part of your Mission in Life. It changes you, It lets you grow from the Inside, and you bring Joy and Aid to the ones in need on the Outside."
One World – Catching Fire
/ Iness Voca
The second newly recruited Ambassador is Antje Simdorn.
Antje Simdorn loves individuality and the difference between people.
Different Goals, Dreams, Looks, Cultures, Religions, Philosophies, and the list goes on…
She, herself, wears many "Hats." She is a Life Coach, Lawyer, and a Fetish Model, all packaged into one person.
On top of that, she is an Experienced Humanitarian.
She holds a Master's Degree in" International Humanitarian Action" and has worked in various Humanitarian Projects in Africa, Asia, and Europe.
Antje Simdorn leads with conviction and has true Purpose And Direction.
For over a decade, her mission has been to help Women Of All Ages Sustainably Improve Their Lives, Careers, and Relationships.
"Women CAN, Women SHOULD, Women WINS" is one of the many Statements she Empowers her followers with, and she lives as a true example.
"Charity is not something I do from time to time. It's part of my lifestyle."

Antje Simdorn
One World – Catching Fire
Of course, you have to put in the time and the work, but you will grow and learn so much from it so that it will be truly worth it in the long run, says Antje Simdorn.
Acceptance of Individuality and Diversity leads to Love and Understanding.
When you see them as diversity, all of these differences are a great asset to all of us, great gifts. We share knowledge of our differences together so that, in the end, everyone gets more out of it.
Most people will not understand that without trying themselves, but nothing can give you a better feeling inside than helping people in need.
Antje Simdorn has a Global Network at her hands. For the One World Catching Fire – Project, she has gathered and engaged people around the World.
"Unity starts from within all of us, and by taking Action and doing Good for each other daily, we make it a Reality,"

Geo Slam
We believe he is absolutely right!!!
For More Information About The One World Project click HERE