If you find yourself feeling drawn to breathtaking castles or the lush highlands of Scotland, perhaps you have Scottish ancestry. Or maybe the country may be at the top of your bucket list. Whether you've been long tied to Scotland, or you're a daring traveler, Heartbox Scotland has found a way to bring the whimsical country and its heritage right to your doorstep.
Heartbox Scotland is a Scottish subscription box that sends little bundles of Scotland to subscribers all over the world. As soon as you open your Heartbox, you will be filled with an overwhelming reminder of home, or 'hame' as those from Scottish heritage would say!
"There are between 20-25 million people in the United States alone with Scottish dysphoria", stated Heartbox founder Gemma. "With so many people wanting to connect with their Scottish heritage we curate our boxes with premium products from Scotland showcasing a different aspect of Scottish culture each month. If they cannot be here, then we will bring Scotland to them!"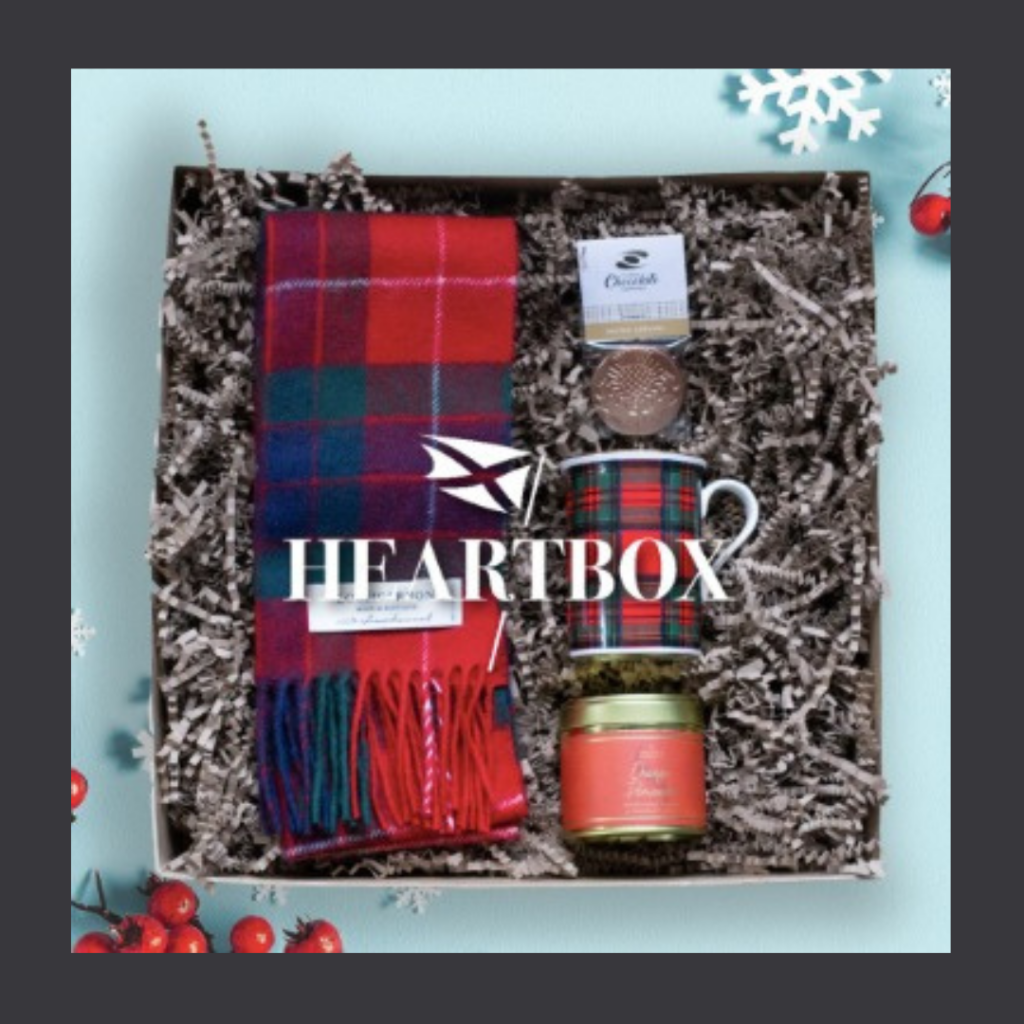 Gemma and her father, Michael, started Heartbox Scotland after working 50 years in the renowned Scottish textile industry. This dynamic duo has a passion for Scottish products and their culture, leading Gemma to leave her sales management job so she could focus on the new family business.
Recently, 'Supernatural' star and actress Ruth Connell, shared a post on her Instagram of the Heartbox she received.
Heartbox goes above and beyond to create an authentic and community-driven experience for each box. They work directly with manufacturers to ensure that they are delivering the most authentic, Scottish products to their subscribers. Gemma tells us "We love researching and curating our boxes from the best suppliers in Scotland and inspiring our subscribers all over the world with different aspects of our Scottish culture".
Opening a Heartbox is as exciting as opening a birthday present. Each month, subscribers receive unique boxes that fit a specific theme about Scottish culture or history, meaning no box is ever the same as the next! Additionally, the theme for the next month is revealed, along with two "sneak peek" products, while the rest remains a mystery to customers. The boxes are shipped in the first week of each month, with international shipping usually taking about two weeks.
Along with the goodies you receive in a Heartbox, there is also a lot to be learned about Scotland. For example, the box for the month of June called the 'Road to the Isles' Box highlights the remote isles and landscapes of Scotland. Each box reveals a little piece of Scottish history, which can make the subscriber feel like a true Scot.
Heartbox Scotland has already seen success in the first few years of its business. Their recent Outlander Inspired Box, which was released in February, saw a 50% increase in their subscribers across the world. This box includes a 100% luxury wool tartan and linen Outlander-inspired cushion cover that is handmade in Scotland, among five other small items such as a Celtic knot pendant bookmark.
Heartbox is a fun and affordable way to get in touch with your ancestry or your curiosities about Scotland. The price of a monthly subscription to Heartbox Scotland is around $60, including delivery fees. The value of the boxes totals to around $70-$80, making the boxes an affordable way to support Scottish businesses while also getting a great deal.
"We are passionate about working to support other Scottish businesses, we love nothing more than finding a relatively unknown supplier who offers something new and special and being able to share that with our subscribers all over the world", Gemma explains. "We try to ensure that our partnerships are a win-win for both us and our suppliers. We want to get the best price for our customers while supporting local business."
Heartbox recognizes that the past few years have been hard on everyone, so they also offer Corporate Gift Boxes for anyone looking to give back to their employees or clients and say thank you. An employee from Aqualiance who gifted Heartbox's corporate gift boxes remarks, "Heartbox was the perfect way for us to express our gratitude to our clients in a more personable way this year, particularly given the current global climate. The ideal gift at a time when going that extra mile has never been more important."
In the upcoming months, Heartbox is about to release their first Heartbox Golf Box, giving homage to the two Scottish staples of golf and textiles to produce their range of Harris Tweed & Tartan gold accessories. The Golf Box will include a driver head cover, wood head covers, utility club head covers, a golf shoe bag, and a golf tee bag.
Gemma and the team plan to be the 'Number One Scottish Gift Box' for anyone looking for a taste of Scotland each month.
To get your hands on your own Heartbox, you can sign up here.