Avni Parekh, author and influential cast member of Bravo TV's hit reality show Family Karma, showcased her impeccable style during Miami Swim Week and was among an elite group of attendees at an invite-only launch and cover party for Bella Magazine held on Friday, July 7th at National Hotel Miami Beach. Among those in attendance at the exclusive soiree were guests of honor Tara Solomon, Liliana Montoya, and Federico Diaz, as well as Luxury Shoe Designer Daniela Uribe, Ema Savahl Couture Designer Ema Koja, as well as Family Karma's Vishal Parvani and Richa Sadana.
Known for her vibrant personality and impeccable fashion sense, Parekh has become a style inspiration for many of the show's fans. Effortlessly combining vintage elements with contemporary trends, Parekh's stunning and eye-catching style made her a standout attendee at the Miami Swim Week events.
Attending Sports Illustrated's popular poolside fashion show, the Be The Bigger Person author brought her A-game, captivating the cameras with her red-orange, body-print, see-through dress. To add to that, Parekh was spotted at PARAISO Miami Swim Week last month. She made a statement in a two-piece baby blue skirt and couture crop top ensemble. The etherial colors and intricate patterns in her vintage designer top perfectly complemented her vivacious personality as she exuded the utmost confidence and elegance.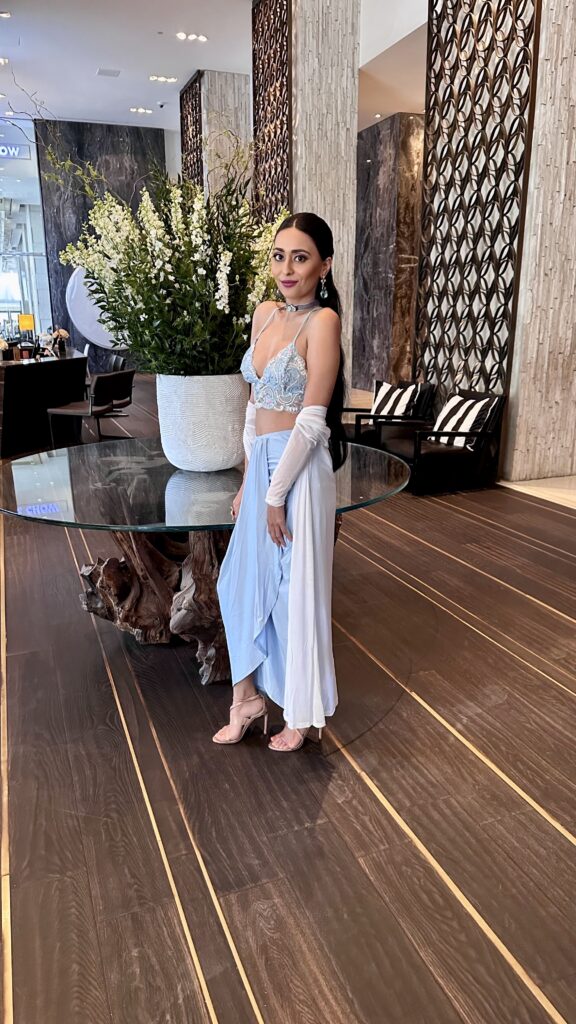 Avni Parekh's presence at Miami Swim Week further solidifies her position as a rising fashion influencer. From dazzling hand-painted crop tops to artistic, sheer dresses, Parekh proved that she is a force to be reckoned with in the world of fashion. As her popularity continues to grow, the Indian beauty is sure to leave an indelible mark on the fashion industry.