One of the most anticipated releases of the year is Glitch, the short film directed by Rebecca Berrih of Elysian Fields Entertainment. The horror film takes place in downtown Los Angeles, is in real-time, and the entire film only lasts four minutes.
The idea of Glitch came from a nightmare Berrih had during the height of the COVID lockdown. The nightmare was that Berrih's mother had called her via FaceTime. Her mother saw a monster-looking creature behind Berrih. Berrih could not see this creature in front of her, but could only see it through her phone. From this nightmare, Glitch was born, and would soon be in the works for the world to see.
The two roles in the short film are the mother and the daughter who are on the FaceTime call. The mother is played by Heather Langenkamp, who is known for her infamous role as Nancy Thompson from Nightmare on Elm Street. The daughter is played by Maya Stojan, who is known for her recurring parts in Castle and Agents of Shields.
For those who are unfamiliar with short films, Berrih describes them as, "the best scene of an upcoming feature film that becomes a short film and showcases the main ideas, tone, and themes of the feature film version." Usually, if short films receive positive reviews from audiences, as well as from studios, shorts can develop into features. Berrih's goal is to impress studios so she can make a feature with the same concept as the short film. According to Sofy, a blog for films, short films are more personal, creative, and are also much less expensive.
During the COVID lockdown, connecting face-to-face with family and friends via FaceTime or Zoom was all most people had. According to Berrih, "We were grateful to be able to use FaceTime or Zoom to see our friends and family, and I thought that the idea that the one thing that helped us cope with the lockdown, technology, could turn against us would be terrifying." The concept of FaceTiming family members is so relatable because so many of us had to do it, and to make this daily activity into a horror-thriller is beyond creative and personal.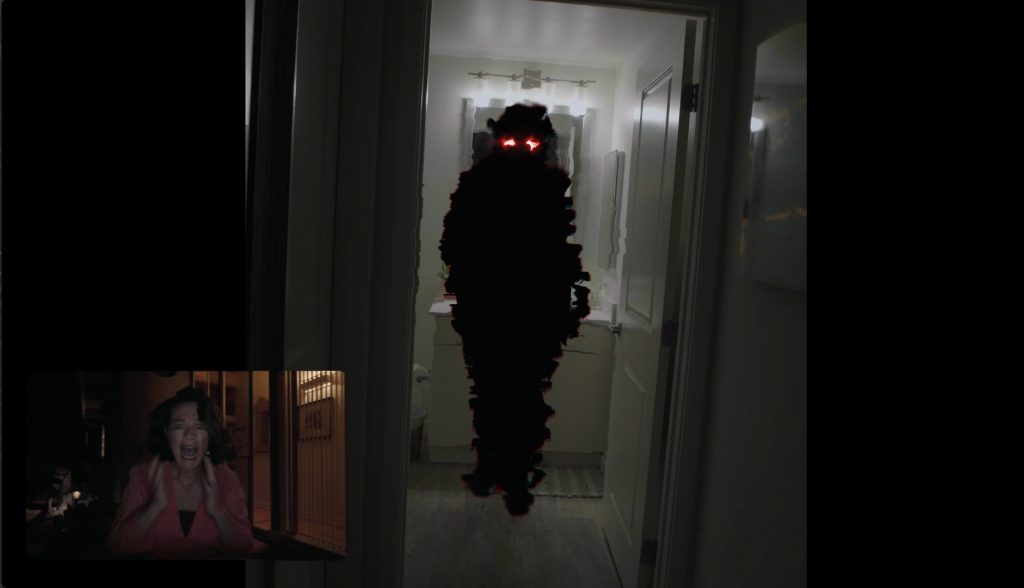 Berrih also acknowledges that in many popular and successful horror-thriller full length films, they get their start as short films. "For some reason, proof of concepts are prevalent in scary movies. Many horror films such as Lights Out, Mama, Evil Dead, and Saw were first developed as short films/proof of concepts."
Berrih is a writer, producer, and director, and because of her multifaceted talents, she was involved in every step of creating Glitch. Marianne Maddalena is the executive producer of the short film. Some of her credits include the Scream Franchise, The Hills Have Eyes, and Red Eye. Zach Staenberg is the editor, who has worked on many Hollywood hits, including The Matrix Franchise, Ender's Game, and Lord of War. Charles H Joslain and Izzy Traub are the visual effects supervisors.
The team faced some obstacles in creating and developing Glitch. One being COVID restrictions. Glitch was shot before COVID vaccinations were being distributed throughout the United States. Making sure all people on set were being safe, and keeping others around them safe was an important priority. Along with that, shooting both the mother and the daughter's parts separately was also challenging at some points. Visual effects were difficult to perfect. Berrih says, "I'm very precise and borderline obsessed, and I enjoy giving notes to improve the shots from one version to another. The film's first shot required 38 different versions to be the way it is right now, and I knew I would keep giving notes until I felt it was the way it should be."
Glitch will have its official California premiere at the fantastic Dances with Films Festival in the Chinese Theatre on June 18th at 11:45 pm. Tickets are available for sale on their website. Along with that, the trailer for "Glitch" is up on YouTube.