Barrie Livingstone, celebrity interior designer, opened the doors to his newest store, House of Barrie in Los Angeles on October 4th with a star-studded guest list.
'The interior designer to the stars' Barrie Livingstone opened his newest store, House of Barrie, in Los Angeles on October 4th to a star-studded crowd. 
The British-born renowned Interior Designer and Realtor has design projects which span the globe, from Los Angeles to Dubai and Miami, to Malaysia, and now, Los Cabos, Mexico. Since he was young, he has been obsessed with creating dream designs that fulfil people's wildest fantasies.
From Los Angeles to Dubai to Miami, to Malaysia, and now Los Cabos, Mexico, the British-born Interior Designer and Realtor has designed projects across the globe. Ever since he was a young child, Livingstone's greatest passion has been creating designs that fulfill people's wildest fantasies since he was a child.
At House of Barrie, Livingstone's newest design store, he has curated a collection that reflects his passion for art, design, architecture, and the international lifestyle.
The evening began with a stunning red carpet scene at 6 p.m. There were several well-known faces on the carpet, including
Tara Reid (Actress American Pie), Samantha Mumba (Grammy-nominated singer), CJ Franco (F*Boy Island), Tom Sandoval (Vanderpump Rules), Tom Schwartz (Vanderpump Rules), Vik Sahay (Actor, Chuck), and Byron Mann (Actor, The Big Short). Exclusive guests had the opportunity to see the store for the first time during the opening.
There was a wide selection of amazing home decor, art, accessories, and gifts for guests to enjoy. Following the tour, guests enjoyed refreshments at Schwartz and Sandy's restaurant and lounge next door. Drinks of the evening included sparkling rosé and pinot grigio from Santa Margherita Wines, as well as signature cocktails from mixology.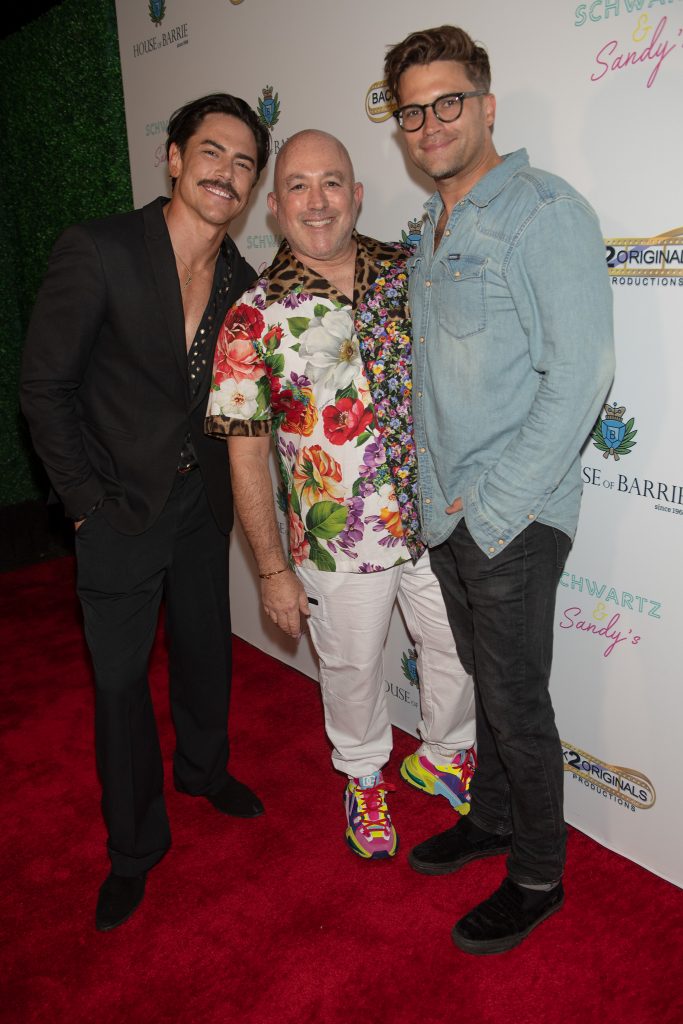 Schartz and Sandy's was the perfect place to prep or decompress after a relaxing trip for guests of the grand opening of House of Barrie. The guests explored both the store and restaurant throughout the evening.
 A prominent guest at the event was the acclaimed producer of Back to Originals Kathleen Fanning Lojkovic. Barry and Kathleen are creating  a TV show called 'Mr Livingstone I Presume?' The show will feature Barrie around the world whilst he discovers unique architectural and conceptual hotels. He will unveil the local history and stories of these exceptional locations. The show will highlight his passion for the international lifestyle.  
In addition to TV shows in development, licensing deals with home furnishings manufacturers, and house flips in Joshua Tree, Barrie currently has real estate listings for sale and for lease. In addition to working for hotels such as Intercontinental Hotel Group, Marriott, and Southern Sun, Barrie has worked on many other projects. His works are magnificent and one of a kind. Aside from Cher's iconic Malibu mansion, he has also designed many iconic architectural pieces. 
The House of Barrie has curated high-end furniture and decor collections for those looking for high-end furniture and decor. The furnishings include dining chairs with names such as Buttermilk Boucle and Jonathan Adler candles. It has a prime location at 1921 N. Bronson Ave, Los Angeles CA 90068. Check out more of Barrie's collections on his website. Items and decor can also be purchased online and shipped anywhere in the US.