You've seen them light up the screen in breakout roles. "Eyes on Hollywood" reveals its 2021 stars to look out for.
UP THE CREEK
https://www.instagram.com/p/CHtRa3Mp8QW/
Dan Levy and his father Eugene were recently named by Entertainment Weekly as the Entertainers of the Year and we couldn't agree more. Dan Levy started his career as a host on MTV Canada but it's behind the camera that he truly shines. Schitt's Creek was his idea, after all. Eugene Levy told EW: "My son came to me with an idea for a television show and said, 'Do you want to work on it with me?' I said, 'Yes.' It wouldn't matter what the idea was." And what a success it was. The show was nominated for a whopping 15 Primetime Emmy Awards with Levy scooping up four. Be sure to catch him alongside Kristen Stewart in Happiest Season.
A ROSE BY ANY OTHER NAME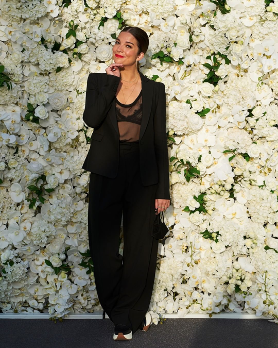 https://www.instagram.com/p/CFYHAJ6FxOm/
Annie Murphy's character on Schitt's Creek might have a colorful past but for the actress playing her, the road to success hasn't been smooth sailing either. "It was a life-changing moment," she told Variety of being offered the role of Alexis Rose. "My apartment had burned down; it was a bleak time."
And what a turnaround it's been. She recently won an Emmy for Outstanding Supporting Actress in a Comedy Series for the show's sixth season. You'll next be able to see her in the AMC dark comedy series Kevin Can F*** Himself.
QUEEN OF THE SCREEN
https://www.instagram.com/p/CIS91TIM8i-/
Like her unassuming character in The Queen's Gambit, Anya Taylor-Joy is an anomaly of sorts. "I don't think I'm beautiful enough to be in films," she told The Sun. "I just think I'm weird-looking." We have to say we disagree, and her impressive list of acting credits are proof. She has previously starred in films like The Witch, Emma as well as Glass and Split by acclaimed director M. Night Shymalan. Next up for the actress is another project with The Queen's Gambit director based on a 1931 novel called Laughter in the Dark. We can barely wait!
CRAZY COOL
https://www.instagram.com/p/CHskIIpF-bN/
You may recognize Gemma Chan from the 2018 blockbuster Crazy Rich Asians where she played fabulous cousin Astrid. Cut to 2020 and Chan's career has skyrocketed. Her next role is as Meryl Streep's onscreen literary agent in the HBO dramedy Let Them All Talk. That's not even to mention the hotly anticipated upcoming Marvel epic Eternals alongside Angelina Jolie and Salma Hayek to name just a few. She's also been chosen as a spokesmodel for L'Oréal Paris. The future looks bright for Ms. Chan and we're rooting for her all the way!