Barry Jay, the founder of BARRYS (previously Barry's Bootcamp), released a horror-thriller film titled "The Way Out," which received immensely positive feedback and award-winning recognition at the Burbank International Film Festival.
Jay's film was awarded the Audience Award and Best LGBT Feature Film.'
The Burbank International Film Festival screens films and bestows awards to groundbreaking films for the past 14 annual occurrences. "The Way Out" was one of 180 internationally acclaimed films screened at the event.
These awards and recognitions hold significant meaning to Barry Jay, the founder of the popular high-intensity workout class BARRYS. Jay opens up about his upbringing and past experiences through the creation and writing process of his film "The Way Out." Barry Jay is no stranger to horror films, most known for his film "Killer Therapy."
"The Way Out," stars Jonny Beauchamp ("Penny Dreadful"), Mike Manning ("This Is Us"), Ashleigh Murray ("Riverdale"), and Sherri Shepherd ("30 Rock"). It tells the story of Alex, a young addict who finds himself in a dangerous situation after developing an intimate relationship with Shane, his manipulative roommate, who sends him down a path of violence and destruction. Jay also wrote the script.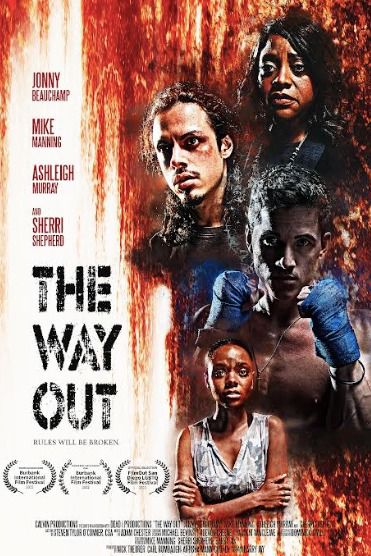 This film holds strong emotions and significance for Jay himself, and he notes that "This story is personal for me. I was hesitant at first to share a lot of what I put in the script, but I knew I wanted to tell an honest story of overcoming trauma like mine. I attribute the success of the project to being surrounded by the love and support of the cast and crew and I can't express enough how much that made a difference. I also held on to my belief in not shutting the door on the past, in hopes to heal and move on. My goal for this project is that it not only entertains but helps others," says Jay.
Jay knew that his film would be an opportunity to create a work that inspired others, but also remind them that they are not alone. He understands the importance of using his voice and making others feel understood and heard, even through the difficult challenges and struggles one may experience.
"The Way Out" won both the Best Feature Film in the LGBT category and the Audience Award, which is a cumulation of all the votes of people who attended every screening throughout the festival.
While the Audience Award is certainly impressive and groundbreaking for the film and team, the Best Feature Film in the LGBT category is a recognition that is monumental and significant for Jay. He has expressed immense gratitude and excitement for the wide audience the film has reached and the impact it has had on viewers. In his awards speech, Jay notes that
"Winning the Audience Award and the Best LGBT Film Award on the same night, at a festival that includes the content of all different types from across the world, sends the message that LGBT content is not only more accepted than it was when I was growing up, but celebrated and embraced by audiences from all over. We are very happy."
This film was crucial to representation in the film industry for the LGBT community, and Jay recognizes his hand in this. It is essential to show more diversity and representation in all forms of media because of the role it serves in inspiring many as well as showing that they are supported.
Jay opens up about his past and mentions, "When I started having feelings of being different, I couldn't tell anyone. In my small town, nothing like that was ever talked about. I became isolated, I had a secret, I was depressed and thought something was wrong with me. So, to win [these awards], today is a day I could have never seen coming. Today, I have a supportive husband, I work with people who are unabashedly themselves, and I am hopeful that this story will help people."
Jay's past is inspirational and he aims to continue to help others, through his many ventures as both an entrepreneur and founder as well as a film writer. As the founder of Barry's Bootcamp, Jay wanted to create a space and environment where people could better themselves while also having a good time. Barry's Bootcamp is a boutique fitness class that details high-intensity interval workouts with cardio and strength training. Jay founded Barry's in 1998 with the first location in Los Angeles. Since then, Barry's has vastly expanded to over 70 studios worldwide, with locations in 14 different countries.
In addition to Jay, in attendance at the Burbank International Film Festival ceremony were Beauchamp, Manning, Nick Theurer (producer), Carl Rumbaugh (producer) and Steven Tylor O'Connor (casting director). The film was also produced by Artisha Mann-Cooper and is being distributed by Terror Films in 2023.
For more information about the film or where to watch visit: https://twitter.com/TheWayOutFilm
To learn more about Barry Jay, his background, and his work at BARRYS check out his biography on Barry's website.