Actress Amy Yasbeck is on a mission to prevent unnecessary suffering caused by the unknown.
On November 4th, Amy took her efforts to the Big Apple and hosted an Evening From The Heart for the John Ritter Foundation for Aortic Health.
An Evening From The Heart, kicked off at LAVO, the Italian restaurant and nightclub.
Guests, including Dan Finnerty (Actor, The Hangover), Kathy Najimy (Actor, Hocus Pocus) and Richard Kline (Three's Company), were welcomed to an evening to raise funds and awareness of aortic health.
The funds from the event's silent auction portion will go on to support genetic research, widespread education, and radical advocacy that can save lives. The foundation has led to rapid research advancements to give people a fighting chance against thoracic aortic disease.
Amy Yasbeck lost her husband and beloved actor, John Ritter, to acute thoracic aortic dissection in 2003, which was tragically misdiagnosed. John Ritter's career spanned decades. He starred in numerous shows and films such as Slingblade, Skin Deep, Problem Child, 8 Simple Rules for Dating My Teenage Daughter, and Three's Company, for which he received a Primetime Emmy Award and Golden Globe Award.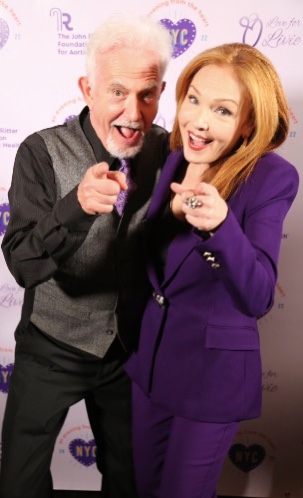 Ritter's unexpected passing shed light on acute thoracic, a rare but common disease. His wife, Amy Yasbeck, created a foundation in his honor, and with this foundation, the Ritter Rules were created. The John Ritter Foundation created these lifesaving reminders to teach how to recognize, treat and prevent thoracic aortic dissection.
Amy has devoted herself to helping others and shining a light on thoracic aortic disease. She wants to prevent others from going through the same suffering because of the undiagnosed and misdiagnosed aortic dissections responsible for many preventable deaths. Each day Amy Yasbeck continues and honors her late husband's legacy. As John Ritter said, "I want to be remembered as just a guy who was interested in the golden thread of humanity that intertwines us all together."
This was the fifth annual An Evening From The Event NYC hosted in partnership with Love for Livie. Livie, a bright and beautiful young girl, is one of those lives that inspires the foundation. Livie passed away when she was less than two years old because of Smooth Muscle Dysfunction Syndrome, a rare disorder that includes thoracic aortic aneurysms and dissections. Unfortunately, no drugs prevent dissection, and it is often not diagnosed in time. The people that attend these events help further the mission of the John Ritter Foundation and support the funding to find treatments and research that can one day make this disease preventable.
The John Ritter Foundation has done incredible work to spread awareness of aortic health, establishing guidelines and funding cutting-edge research. Amy Yasbeck and the foundation's perseverance to help and save lives is remarkable; they fight for the ones who can't, for the ones lost, and for the ones still here today.
For more information on the John Ritter Foundation please visit, johnritterfoundation.org.