On Saturday, June 12, citizens of Los Angeles, California were greeted a heartwarming message up in the warm June sky that later went into a diss on comedian and podcast host Joe Rogan.
The initial messages read as the following. "will you marry me Mollie Pratt" "she said yes" "I love you more than anything" "excited to spend my life with you" and "until death do us part". Right after the marriage proposal came one final message" "got one more thing to say" "Joe Rogan is literally 5 foot 3"
Although, "literally" was misspelled as "liteally".
Many people took to social media, mainly Twitter, to show the trolling message up above in the Los Angeles sky. Twitter user @joeblaugrund said he went to grab a soda at the local market and saw the message sprawled across the sky.

While I'm sure Mollie Pratt was happy with the proposal, I can't help but wonder how she took the tail end of the message. Entertainment news site The Wrap reached out to the company, SkyTypers, and a spokesperson said the person paid $17,500 for the messages. That is one elaborate prank.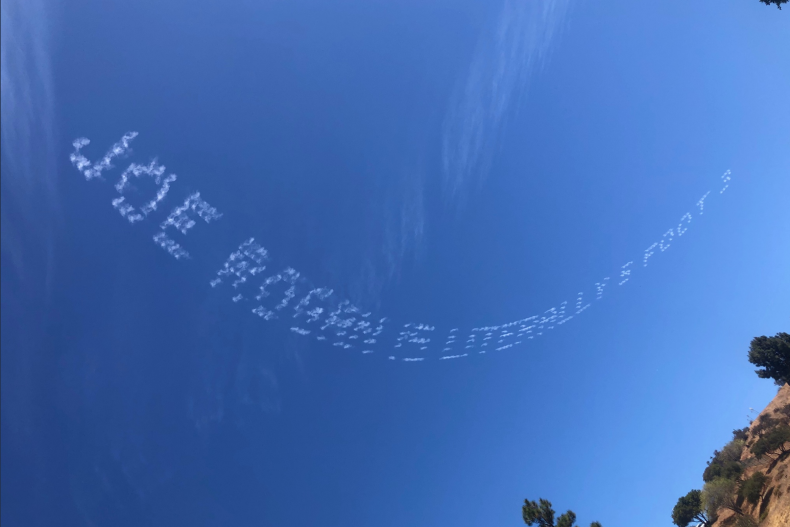 Joe Rogan's height has been a point of contention for fans and trolls. Google lists his height as 5'7" while on a recent episode of The Joe Rogan Experience, heclaimed he's 5'8". Fans on social media and internet forums have claimed that he is much shorter than what he lets on. These fans have met Rogan in person at comedy shows and UFC events and back up this assertion.
A thread on Reddit claimed that Joe is actually 5'5" after the poster claimed to have met him at the Comedy Store in Los Angeles.

The reason for this cheap shot at him is because Joe Rogan has said a lot of controversial things as well as outright lies on his podcast which have all rubbed people the wrong way. Joe Rogan has been skeptical as to the lethality of the coronavirus and the effectiveness of the vaccine. He's gone as far as to tell his audience to not take the vaccine.

People were extremely critical with many blasting him on the news and social media. Rogan eventually walked back his comments by saying he's a moron and not a respected source of information.

Regardless, that response wasn't enough to deter one troll.