Kim Gravel is on a mission to boost confidence and transform how women look inward.
Her ability to walk into any space and shine a positive light is incredible. Kim's gift has contributed to the success of her many endeavors, including a beauty and fashion line, a television series, and now a book. Kim Gravel is working on spreading her voice of positive change further than she could ever imagine.
Kim Gravel dons many titles: Mother, "Queen of QVC," entrepreneur, Miss Georgia, podcaster, life coach, author, and the list goes on and on. What hasn't she accomplished? Truly, Kim is an inspiration to every woman that she crosses paths with, and if you don't know her, you should! Her mantra is to "believe in your own beauty." She tells women that we should not only accept ourselves for who we are but show love for ourselves, our flaws and all, because imperfections make us human. Kim once said, "In our society, and in life, and in our culture, we're constantly trying to shove people into a mold or in a box. And people say, "well, they broke the mold, and they made you." [But] there's never been a mold!"
Kim Gravel's mission is to encourage women to live, laugh, and love as loudly as possible and embrace life and the nonsense it throws at us. She sends this message out far and wide in her weekly podcast, LOL with Kim Gravel. She tackles topics on self-love, faith, aging, vulnerability, uncertainty, sex and intimacy, and much more. Kim lets people know they aren't alone in their efforts to be the best version of themselves. The truth is, we all live imperfect lives, and there is no shame in admitting so.
We often think that our mistakes define us, but Kim Gravel says our mistakes allow us to learn something about ourselves and rise up. Kim pulls people out of those dark corners they put themselves in because they think they should be ashamed or punished for not being "good enough." Her words somehow smooth over the wounds we inflict on ourselves. Kim reminds people of who they are, that they are put here for a reason, and no matter what, she is here to lift you so that one day you can be your own biggest fan.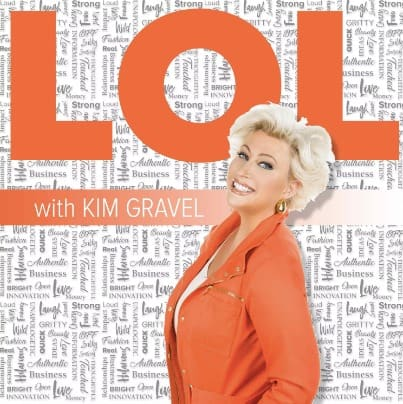 Kim has seen her words touch the lives of many, so much so that she has decided to publish a personal memoir, Collecting Confidence: Start Where You Are to Become the Person You Were Meant to Be. This memoir is meant for women who don't know where to begin when it comes to becoming everything they have always hoped and dreamed of being. She wants people to know that deep down inside, we are great; it has always been there, and it just takes some digging to reveal that part of ourselves.
This book was inspired by Kim's trials and tribulations she has faced throughout life. It may appear like she has it all figured out, but it took work and a lot of soul-searching. This book recounts the toxicity of her failed marriage and how she found purpose in her life again. She opens herself up to readers, letting them know that you have to get back up and run in life's lowest points. She says, "If your life is not getting bigger, it's time to change it."
For the ones that lost their footing on life's path, this is the book for you. Remember who you are one step at a time and build the confidence to take charge of your life. Kim Gravel says, "You can't be authentic in the world if you can't be real with yourself." Collecting Confidence is her collection of wisdom she's gained through life experiences, good and bad. She is here to empower women to be authentic and shine bright, no matter what.
Her book will be released in April of 2023 and is available for pre-order through Barnes and Noble and Amazon.